WHAT'S INCLUDED WITH YOUR ORDER
The purchase price includes both the door slab and jamb. The jamb is assembled and prepped during manufacturing, then disassembled for shipping. Unit comes with the pivot hardware already installed in both the slab and the jamb. Door ships stain ready (needs stain and clear-coat).
Handle sold separately.
LEAD TIMES AND SHIPPING
Lead-time is currently 6 weeks. Ships Freight, curbside delivery (5-7 business days).
See map below for approximate transit times to your region.
*Pivot Door Company guarantees ship dates; we do not guarantee delivery times. Ship times depend on the carrier. That being said, we have come to trust and see great reliability in Fedex Freight.
IMPORTANT: NO CUSTOMIZATIONS
Contractor Series doors are made and shipped as specified in the product description. In order to provide this series of door at a lessor price than our custom line, we've pre-purchased all the material to specifications and have manufactured parts of the door already. Because of this, there are no customizations allowed to this series of door. If you have questions about the product specifications, please contact us before purchase. If you wish to order a door that varies from the product specifications stated in the description, consider ordering one of our customizable exterior doors. We are able to make some small alterations like; adding a separate transom, upgrading glass to hurricane rated glass or other special glass types but are unable to change the size.
Once the order is placed, we will send you shop drawings and further documentation for you to review and sign off on before production begins. This process is to confirm that your order is correct.
If you provide us with the details, we can send you a formal quote for an upcoming project. Simply send us a description or an image of the door you want built. Feel free to call or email us to speak with a sales rep.
Phone: 719-425-4289
Email: sales@pivotdoorcompany.com
BUYING HELPS
Below are a number of explanations to help in determining what options you will choose from the drop down menus.
NET FRAME SIZE
Use the information below when choosing a Frame Width and a Frame Height. We sell doors by frame size, the actual door size will be less than the frame size.
AVAILABLE WIDTHS AND HEIGHTS
For Contractor Series doors, you may choose from the following frame widths and heights:
Frame Widths: 43 1/2 in., 49 1/2 in.
Frame Heights: 81 3/4 in., 97 3/4 in.
MEASUREMENTS TO KNOW
When sizing the door you will need to consider two principle measurements, rough opening and frame size. See the image below for reference.

Casing included for illustration purposes only, not included in purchase price
ROUGH OPENING
The rough opening is the distance from stud to stud for framing purposes. We advise that you build a rough opening that is ½ in. wider and 1/2 in. taller than the total door unit. We find that this allows for sufficient shimming and adjustments during installation.
WOOD TYPE
CHOOSING A WOOD SPECIES…
For Contractor Series doors we offer four wood types: Mahogany (Sapele), Walnut, Paint Grade, White Oak. If you would like a greater range of wood types to choose from, you will need to order a customizable door.
As you decide which wood you'll choose, the most important factor is how the wood species goes with the overall design of the door and your project. If you have specific questions about what wood to choose that are not answered here, feel free to reach out to us
Our Wood Selection for Contractor Series

Mahogany (Sapele)
African Mahogany (Sapele) is a reddish-brown hardwood and is desired for its rarity, strength and beauty. IT is one of our most durable and resists swelling and warping, making it ideal for harsher environments and coastal climates. With its stability and smooth surface, Sapele is also used as our paint grade wood selection.
Walnut
American Black Walnut hardwood is naturally darker in color, much like an espresso brown. It is strong, hard and exceptionally durable, without being excessively heavy. When sealed there is a dark contrast from the heartwood and sapwood offering an exotic finish. Although Walnut is naturally dark, it has the propensity to lighten over time.
White Oak
White Oak hardwood has a medium brown grain with an olive cast, while the sapwood ranges from a light cream to tan. Its moisture movement is medium to high and it has a good density with a medium to coarse texture. White Oak is more resistant to weathering issues than Red Oak.
Paint Grade
We offer a paint grade wood type made from Mahogany (Sapele) Veneer. This wood type is acceptable for painting using a variety of paint (pigment) products.
JAMB DEPTH
Jamb depth depends on the thickness of the walls into which the door unit will be placed. For Contractor Series exterior pivot doors, we offer three jamb depths: 4 5/8 in., 5 1/2 in., and 6 5/8 in. Usually the jamb is flush with the interior and exterior wall covering, with the seam covered by casing.
Available Jamb Depths*
4 5/8 in.
5 1/2 in.
6 5/8 in.
*You will need to order from our Customizable line if you need a different jamb depth from what is available above.
JAMB DEPTH DIMENSION
THRESHOLD COLOR
All Contractor Series doors come with a choice of a black or grey aluminum threshold.
THRESHOLD TYPE
All Contractor Series doors come with a Type 2 threshold. Type 2 thresholds are suitable when there is any type of wood covering on the interior of the house. The Type 2 threshold has a 90 degree angle on the interior facing side for the wood or tile covering to butt up against.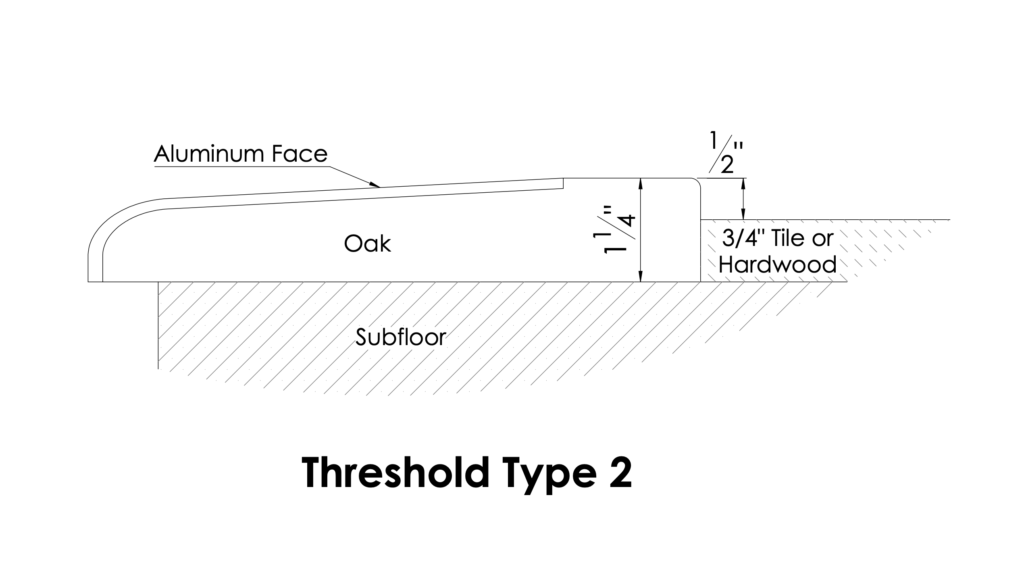 If the exterior floor is the same level as the interior floor, you will need a Type 1 threshold (available with our Customizable line). More commonly, though, the exterior floor is lower than the interior floor and you will need a type 2 threshold.
DEADBOLT AND HANDLESET PREP
SINGLE AND DOUBLE BORE
We will pre-drill the door for a handle with 2 3/8 in. or 2 3/4 in. backset. Standard bore diameter is 2 1/8 in. The term "backset" refers to the distance from the edge of the door to the center of the bore hole. See the diagram below for more details.
MORTISE
We can mortise the door for many entry lock sets. Please contact us directly to configure your specific requirements.
OTHER
If you wish for us to prep for a handle you purchase from another vendor, you will need to provide us with the specifications for the handle or lockset so we can properly prep. You may then be required to mail us the hardware to properly prep for it.
Alternatively, you may decide that you want to wait and have a local carpenter prep the for the door handle.
STANDARD HANDLE PREP

NOTE: All jamb strikes are prepped on-site to ensure proper alignment after installation and any necessary adjustments.
SWING CONFIGURATION
When you order your pivot-hung entryway, you have options when it comes to how the door will swing. Because 99% of the time, you will want a door that swings into the interior (in-swing), our Contractor Series line only comes as an in-swing.
When it comes to right-hand or left-hand swing, the layout of your installation site will determine the swing configuration. To determine if the door is left-hand or right-hand in-swing, imagine you are looking at the door from the street. If the pivot point is on the left side, it is a left-hand in-swing. If the pivot point is on the right-hand side, the door is a right-hand in-swing.
DIAGRAM OF POTENTIAL CONFIGURATIONS
Swing configuration defines the direction of the door motion and from which side the pivot is placed
PIVOT HARDWARE
FREE-SWING PIVOT HINGE
Our standard pivot hardware is a durable, specially engineered free-swing pivot hinge. This pivot hardware works for a wide range of doors, from small to very large. No matter the door size, the free-swing pivot hinge allows for effortless door operation. The hardware incorporates sets of ball-bearings for smooth, long-lasting performance. The door swings freely around the pivot point. There are no springs or tension pulling the door closed.
PIVOT PLACEMENT
The pivot placement is the distance the pivot pin will be placed away from the vertical edge of the rough opening. Contractor Series doors have set pivot placements.
FIXED PIVOT PLACEMENTS
43 1/2 in. Frame Width comes with a 4 in. pivot placement, allowing for a pass through of 36 5/16 in.
49 1/2 in. Frame Width comes with a 8 in. pivot placement, allowing for a pass through of 38 5/16 in.
GLASS COLOR
You have the option of having a clear glass or frosted white glass.
GLASS SIDELIGHT
In many cases, customers wish to purchase sidelights for their door units. We build sidelights directly into the door unit, so the jamb and sidelights connect seamlessly. All you need to do is tell us what kind of sidelights you want, what size they should be and what kind of glass you want.
GLASS SIDELIGHT PLACEMENT ON DOOR
With Contractor Series doors, you can choose between three sidelight configurations:
– Right Sidelight
– Left Sidelight
– Double Sidelight
Sidelight placement is specified with reference to the exterior view. If you want a 12″ sidelight that is on the right side when viewed from the exterior, click on the dropdown options under "Right Sidelight" and select the option: 12″ right sidelight. If you want a double sidelight, simply a size under both the the Right Sidelight and Left Sidelight options. Double sidelights can be of different sizes.
SIDELIGHT WIDTH
You have a choice of four sizes (6", 12", 18", 24") when ordering a sidelight with a Contractor Series door. The door will be built with the sidelight attached so the height of the door and the height of the sidelight will be the same.
Example: A door that is 49 1/2″ x 97″ with a 12″ x 97″ right sidelight will get you a door and sidelight combo that measures 61 1/2″ x 97″ (the rough opening size should be somewhere around 62″ X 97 1/2″).