Double Door Unit
Please contact us for custom designs and specifications not listed here.
Phone: 719-425-4289 Email: sales@pivotdoorcompany.com
---
Product Overview
Door are built with 1/4 in. solid wood face.
Door core construction is double-reinforced steel grid.
Door are prepped with pivot hardware and weather seals.
Wood face is raw and unfinished, shipped stain-ready.
Jamb is broken down for shipping.
Lead time is 6 weeks (rush production available).
Ships Freight, curbside delivery (5-7 business days).
Included with Order
Double Door system
Jamb posts, header, threshold
Pivot hardware
Weatherstripping
*Handle and lock sets sold separately.
Specifications
Dimensions
Product available in customer-defined sizes:
Wall Unit Width (in.): 84 – 144
Wall Unit Height (in.): 84 – 144
Jamb Depth (in.): 4 5/8, 5 1/4, 5 1/2, 6 5/8, 7 1/2
Door Thickness (in.): 2 1/4
Rough Opening: Add 1/2 in. to the width and height dimensions
Pivot Placement: 4, 6, 9, 12, 15, 18, 21, 24, 30 inches
Contact us for custom dimensions not listed above.
Warranty / Certifications
Product comes with a two-year limited warranty.
Product carries no certifications.
Details
Deadbolt and Handleset Prep: Customer-specified
Wood Type (choose one): Mahogany (Sapele), Walnut, White Oak, Paint Grade, Knotty Alder, Red Oak, Cherry
Wood Finish: Unfinished, raw wood (stain-ready)
Glass Insulation (for designs with glass): double-paned, insulated
Glass Pattern (for designs with glass): Clear or frosted
Brickmold/Casing: not included
Door Construction: Wood face, steel core
Door Design (choose one): Solace, Dina, Line, Katti, Robyn, Verena, Flat, Glass, Finn, Urban, Lassen, Hannah, Sydney, Eame, Pola, Ogden
Door Type: Exterior, pivot-hung, wall system
Frame Material: Wood
Hinge Type: Center-hung pivot
Pivot Hardware (choose one): Standard Free-swing, Dorma Closer Upgrade
Swing Configuration (choose one): Double Swing In, Double Swing Out, Center Swing
Threshold Configuration (choose one): Type 1, Type 2
Threshold Color (choose one): Black (Dark Bronze Anodized), Grey (Mill Finish Aluminum)
Returnable: No return on custom-built products
---
Buying Helps
Below are a number of explanations to help in determining what options you will choose from the drop down menus.
Measurements to Know
When sizing the door you will need to consider two principle measurements, rough opening and frame size. See the image below for reference.
Rough Opening
The rough opening is the distance from stud to stud for framing purposes. We advise that you build a rough opening that is ½ in. wider and 1/2 in. taller than the total door unit. We find that this allows for sufficient shimming and adjustments during installation.
Frame Width
The Frame Width is the actual width of the door jamb. When determining the frame width you want to put in a number that is at least a half inch less than the rough opening size to allow room to square and level the door. For example, for a rough opening 48 inches wide, order a frame width of 47 1/2 inches.
Frame Height
The Frame Height is the actual height of the door jamb. This includes the the header and threshold. When determining the frame height you want to put in a number that is at least a half inch less than the rough opening size to allow room to square and level the door. For example, for a rough opening 96 inches tall, order a frame height of 96 1/2 inches.
Size of Doors
We will use the Frame Width and the Number of Doors to calculate the width of the individual doors in the wall system. For example, if the frame width is 120 inches, the individuals doors will be approximately 60 inches wide. Please contact us directly if you wish to configure the double door system widths differently. For example, if the frame width is 120 inches, the individual doors can be 48 inches and 72 inches wide. 
Door Style
You may choose from a number of our popular interior doors styles. Please use the diagram below to to identify which door style you wish to incorporate into the wall system design. Contact us with questions about custom styles.
Wood Type
Choosing a Wood Species…
We offer a range of wood species to go standard with our doors. If you would like something other than what we have, in most cases we can source wood types that are not listed below, though prices will vary.
Our Standard Selection
Jamb Depth
Jamb depth depends on the thickness of the walls into which the door unit will be placed. Most walls are studded out with 2×4's or 2×6's, and so, our most common jamb depths are 4 5/8 in. and 6 5/8 in., respectively. Usually the jamb is flush with the interior and exterior wall covering, with the seam covered by casing.
We have standard jamb depths of
4 5/8 in.
5 1/4 in.
5 1/2 in.
6 5/8 in.
7 1/2 in.
If you wish for us to provide a jamb depth different from one of our standard options, please contact us.
Jamb Depth Dimension
Threshold Color
You may choose between two different finishes for the aluminum threshold cover plate: black or grey.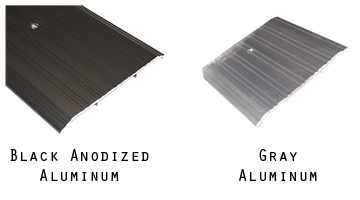 Threshold Type
You can choose from two standard threshold configurations, depending upon your project specifications: type 1 or type 2.
If there is any type of wood covering on the interior of the house, you will need a type 2. The type 2 threshold has a 90 degree angle on the interior facing side for the wood covering to butt up against.
If the exterior floor is the same level as the interior floor, you will need a type 1 threshold. More commonly, though, the exterior floor is lower than the interior floor and you will need a type 2 threshold.
Swing Configuration
When you order your pivot-hung entryway, you have options when it comes to how the door will swing. Though 99% of the time, you will want a door that swings into the interior (in-swing), we are set up to build jambs where the door swings out to the exterior (pushing your visitors out of the pathway of your tremendous door).
However, when it comes to right-hand or left-hand swing, the layout of your installation site will determine the swing configuration. To determine if the door is left-hand or right-hand in-swing, imagine you are looking at the door from the street. If the pivot point is on the left side, it is a left-hand in-swing. If the pivot point is on the right-hand side, the door is a right-hand in-swing.
Diagram of Potential Configurations
Swing configuration defines the direction of the door motion and from which side the pivot is placed.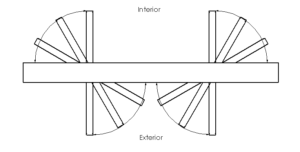 PIVOT PLACEMENT
The pivot placement is the distance the pivot pin will be placed away from the vertical edge of the rough opening. Generally speaking, we suggest placing the pivot over one quarter of the distance of the door width. We find that this presents a solid aesthetic for most door dimensions. If your rough opening is 48" and you choose a 9" pivot placement, the door will roughly have a 37" pass through opening. You want to ensure you leave at least a 36" opening. (Rough opening width – pivot placement measurement – 4 in. for jamb = a number greater than 36). See picture for details or contact us for clarification.

SUGGESTED PIVOT PLACEMENTS
| | |
| --- | --- |
| Door Slab Width | Pivot Placement |
| 42″ – 44″   ……….. | 4″ |
| 45″ – 47″   ……….. | 6″ |
| 48″ – 53″   ……….. | 9″ |
| 54″ – 60″   ……….. | 12″ |
| 61″ – 66″   ……….. | 15″ |
| 67″ – 70″   ……….. | 18″ |
| 71″ – 74″   ……….. | 21″ |
| 75″ – 80″   ……….. | 24″ |
| 81″ – 86″   ……….. | 30″ |
PIVOT HARDWARE
FREE-SWING PIVOT HINGE
Our standard pivot hardware is a durable, specially engineered free-swing pivot hinge. This pivot hardware works for a wide range of doors, from small to very large. No matter the door size, the free-swing pivot hinge allows for effortless door operation. The hardware incorporates sets of ball-bearings for smooth, long-lasting performance. The door swings freely around the pivot point. There are no springs or tension pulling the door closed.
CLOSER, DORMA BTS/80
In commercial applications and in rare residential applications, we install a bottom closer. The bottom closer creates constant tension on the door's swing to pull the door into the closed position. This means one must hold the door in order to keep it open. With a closer the door will not rest in an open position unless the hold-open feature is activated, which holds the door open at a 100° angle.
Shipping
Standard 6 Weeks to Ship
Your door leaves the shop six weeks from order confirmation. Allow additional time* for freight delivery. See map below for approximate transit times to your region.
RUSH 2 WEEKS LESS TO SHIP
If six weeks is not soon enough, we can manufacture a custom door sooner if you choose the Rush Option. The additional charge covers reducing production time by 2 weeks including but not limited to; paying the extra hours worked by the production team, paying rush charges for any specialty hardware/materials not in stock. While most door designs are able to be completed in this time frame, some designs may require additional time in production. This rush time frame will be shown on your order before you sign for final order confirmation to begin production. Allow additional time* for freight delivery. In order to cut down on shipping time, your order may be sent FedEx Freight Priority instead of Economy. See map below for approximate transit times to your region.
*Pivot Door Company guarantees ship dates; we do not guarantee delivery times. Ship times depend on the carrier. That being said, we have come to trust and see great reliability in Fedex Freight.